Matty Bane -
Matty Bane is currently in the Bristol based band The Transpersonals. For more information visit www.myspace.com/thetranspersonals
He is still a session drummer, a drum teacher and occasional DJ. He has toured all over the world with The Special Beat, Neville Staple, and Bad Manners (who he appeared on national TV with on 'Never Mind The Buzzcocks'). He left Bad Manners in 2006 after a 3 year stint to pursue other musical projects.
He features on many Pop-A-Top releases.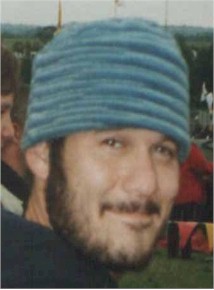 Matty Bane

Matthew Bane was born in England in 1969. As a small child he would drum on any surface with knitting needles to his mums Beatles records and was fascinated by the drummers on Top of the Pops, (he's still fascinated to this day)! Even though the programme has been scrapped by the BBC.

At the age of 8 Matty started learning percussion at Swindon Young Musicians. He played in a variety of different groups including brass bands, orchestras and ensembles. In 1982 he appeared on the ITV program "Fanfare For Young Musicians". After leaving SYM he played in the school orchestra and at a local gospel church.

Matty started at Swindon's New College in 1986 and it was here that he got involved in the local music scene, playing in a number of different groups including Noise Annoys.

In 1989 he joined indie band, The Hip Tracies, who had a following locally and attracted some record company interest, sadly they fizzled out in 1992. In '93 he released a 7" single with his next group Santa Psychotic and he also played in Germany with them. In 1994 he took a well earned rest.

From '96 to '98 Matty played with Roundabout, a '60's influenced act who cut an album, Its Nice To Be Nice for ARC Records. It was whilst playing in Roundabout that he finally met Erin, a figure he had seen about for years and they became firm friends. Roundabout did the occasional gig with Erin's band The Skanxters, and Matty became good friends with those Swindon ska pioneers. He returned to play on selected tracks on the final Roundabout album

Better Out Than In in 2005.

In 1998 Matty joined The Skanxters spin off reggae project, Unity, and toured the Caribbean in '99. The same year he helped to launch the Specials tribute band, The More Specials. This continued on through to 2002, when he departed The More Specials to pursue a path of original music, as opposed to cover versions.

From 2002 onwards he has been heavily involved in the various Pop-A-Top recording sessions, including a trip to the Dynamic Sounds Studio in Kingston, Jamaica in June 2003.